Accredited Coach Training & NLP Diploma
Become a Qualified Coach & get your Neurolinguistic Programming (NLP) Diploma in just 12 weeks. Everything you need to increase your credibility, impact and confidence!
Evidence based training backed by the history of psychology, delivered by a psychologist.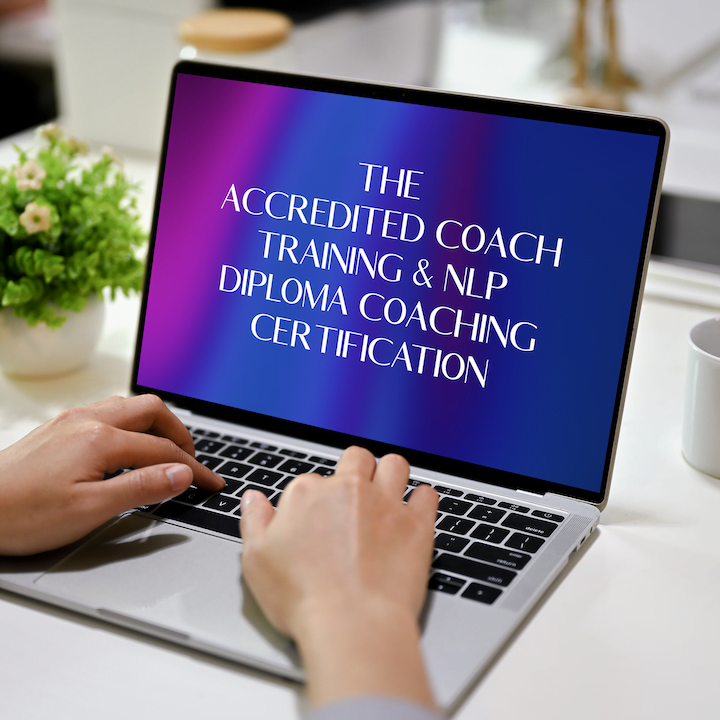 Increase your Credibility, Impact, & Confidence!
Have you been thinking about advancing your coaching and communication toolkit?
In just 12 weeks time you could be attending your online 'graduation', celebrating becoming an internationally recognised qualified coach and passing your NLP Diploma at the same time!
Becoming certified as a coach and getting your NLP Diploma can be the key to more confidence and credibility in your industry and with your team members. Our certifications exceed industry standards and are recognised by international professional bodies such as the Association for coaching (AC) and the Association for NLP (ANLP), so you can trust that you are receiving the best possible education.
With our LIVE certifications, you will be able to establish yourself as an expert in your chosen field, as well as standing out as a great leader or manager using our trusted, tried and tested formula for success.
You will also have the confidence that comes with having a certification from a trusted, established institution, and you will have the know how of how to implement your learning both professionally and personally.
What makes this course different is that it is a dual qualification, specially designed to combine 30+ years of learning experience of what makes a great learning into one amazing course. All our students find our content not just engaging, and useful but most importantly life changing!
Do you want to help people be at their best & make a difference?
This is your opportunity to get qualified with evidence based psychological practices. Increase your confidence, credibility and results, all in just 12 weeks with our two-in-one qualification.
This is perfect for you if you are leader, manager, team member, or just looking to advance your coaching and communication skills in any other context.
Over 12 weeks, you'll
Grow Your Skills

Teams
Tried and tested techniques to coach your team members; helping them reach their full potential and beyond!
Leaders & Managers
Set yourself apart by adding new skills to your toolbox, and learn the secrets to advanced rapport building, influencing, and leading.
Personal Development
These tools and techniques will not only change your life, they will help you change the lives and perspectives of those around you.
Inside the certification
This live, step-by-step, fully supported 12 week course will help you increase your confidence and credibility in coaching and NLP. On completion, you will become a qualified Coach recognised by the Association of Coaching (AC) plus you will get your NLP Diploma in advanced communication recognised by the Association of NLP. This is a two-in one internationally recognised qualification!
Ethical Coaching
Association for Coaching (AC) and Association for Neurolinguistic Programming (NLP) Ethical Conduct 

Confidentiality and Data Protection 

Trust and Contracting 

Professional Boundaries 

Importance of Reflective Practice 

Logistics, Fees, and Scheduling 

Awarding Bodies and How Your International Membership Works
It all starts with ethical practice and understanding what makes a great coach. The coaching industry is currently unregulated. However, there are many predications this will change imminently. This course will help you stay ahead of the curve and demonstrate your ethical practice from day one as a Leader, Manager or Team Member using advanced coaching and communication skills. 
Coaching Skills
The Secrets to Great Rapport 

Active Listening and The Power of Silence 
Intuition and Human Psychology 
Self Awareness 
Developing a Coaching Mindset 
The Difference Between NLP and Coaching 
Your mind will be blown with these secrets to building great rapport and creating more self awareness. Whether you use these techniques in presenting, pitching, coaching, consulting or training – there is something for everyone. 
Coaching models
What Coaching Models are and What They Aren't

 

GROW 
ACHIEVE
CLEAR 
DISNEY creative model 
Different Styles of Coaching: Coaching for Performance, Positive Psychology and Coaching, Mindful Coaching and More 
Feel confident using the various coaching models and understand how each one can be used flexibly. Helping your team members and coachees take ownership to reach their goals in a much more empowering way. 
Neurolinguistic Programming
Basic Methodologies of NLP 

Well Formed Outcomes 

Managing Your Emotional State and Mindset 

Introduction to Language Patterns 

The Power of Reframing 

Logical Levels of Change 

Changing Perspectives 

Client Calibration 
Mind-blowing NLP techniques that can literally change thoughts, feelings and behaviours to ultimately help people live their life to the fullest. This is the difference that makes the difference in everything you do, and with everyone you communicate with!
Executive Coaching
Working Within The Organisational Context 

 

Understanding Leadership Issues and Challenges 
Working in Partnership With an Organisation
Contracting With The Organisation 
Feel confident approaching and working with employees, managers and leaders to get results that not only benefit them, but also make a difference to the organisation. 
interested?
here's your next steps.
Whether you're curious about something, seeking additional details, or ready to start your journey with us, our team are at your service! Simply complete the form below, and we'll be delighted to assist you with any inquiries and enrollment requirements you may have.
Pricing Information
_______
Pay in Full – £2,222 / $2,800
From £444 / $555 on a monthly payment plan.
Why Become
Certified?
Becoming certified in coaching, mentoring, and training offers numerous benefits and advantages. Here are just a few of the reasons you should consider pursuing certification:
Credibility & Trust
Certification provides instant credibility and establishes trust with clients, employers, and colleagues. It demonstrates your commitment to professionalism, competence, and ethical standards in your chosen field. Clients and organizations are more likely to seek out certified professionals, giving you a competitive advantage.
Knowledge & Enhanced Skills
Certification programs offer comprehensive training that equips you with in-depth knowledge, practical skills, and industry-relevant techniques. You will gain a solid foundation in your field, keeping you up to date with the latest trends and best practices. This expertise will enable you to deliver exceptional results and effectively support your clients or trainees.
Expanded Career Opportunities
Certification opens doors to a wide range of career opportunities. As a certified professional, you can pursue various paths such as starting your own coaching or training business, joining established organizations, or working independently as a consultant. Certification enhances your marketability and increases your chances of securing lucrative positions or attracting high-profile clients.
Professional Growth and Development
Certification is not just about acquiring knowledge; it is also a journey of personal and professional growth. Through the certification process, you will challenge yourself, gain self-awareness, and develop valuable skills like effective communication, active listening, and problem-solving. Certification programs often include mentorship or coaching components that foster ongoing growth and improvement.
Networking & Collaboration
Certification programs provide opportunities to connect with like-minded professionals in your industry. You can network with fellow coaches, mentors, and trainers, building valuable relationships, sharing insights, and collaborating on projects. These connections can lead to collaborations, referrals, and continuous learning from peers in your field.
Industry Recognition & Standards
Certification aligns you with recognized industry standards and best practices. It demonstrates your commitment to maintaining a high level of professionalism and adhering to ethical guidelines. Being part of a certified community enhances the reputation of the industry as a whole and contributes to its overall credibility.
Our program has been meticulously crafted by seasoned professionals who have excelled in their respective fields. You will learn from the best, gaining insights, strategies, and techniques that have been tried and tested in real-world scenarios so you can become the best life coach and mindset coach.
CUSTOMIZED AREA OF EXPERTISE: We understand that every individual has unique talents and interests. That's why our program offers personalized support to help you choose and specialize in the area that resonates most with your passion and aspirations. Whether it's business coaching, marketing strategy, sales mentoring, or any other field, we have you covered.
WORLD  CLASS TRAINING: Our certification program is synonymous with excellence. You will receive comprehensive, industry-leading training that covers the latest trends, methodologies, and best practices. Our curriculum is constantly updated to ensure you stay ahead of the curve and deliver exceptional results to your clients.
HIGH-LEVEL SUPPORT: We believe that learning doesn't end with the completion of a course. That's why we provide ongoing support to our learners. Our experienced mentors and trainers will be there for you every step of the way, offering guidance, answering questions, and providing valuable feedback to help you refine your skills and accelerate your success. maintain the highest standards in our programs, faculty, and certifications, ensuring you receive top-notch education and training to become an exceptional coach, mentor, or trainer.
ACCREDITATION THAT MATTERS: With our certification in hand, you will gain instant recognition and credibility. The International Authority for Professional Coaching and Mentoring has accredited our program, affirming its quality and industry relevance. Your certification will open doors to exciting opportunities, elevate your professional standing, and give you a competitive edge.are fully committed to compliance with industry regulations and standards. Our certifications meet rigorous requirements, providing you with the confidence that your training is recognized and respected in your field.
This is a master degree level qualification is accredited by the International Authority For Professional Coaching & Mentoring. It has been designed for anyone looking to take the next step in their career or start a business as an online business, marketing or sales strategist & mentor.
In order to get certified you will need to complete the below:
Curriculum Completion: We have a robust curriculum to provide you with all of the knowledge and resources you need to become a strategist and mentor.
Assessment Completion: We want to ensure you understand what you are learning. There will be an assessment as the end of each module.
Client Case Study Log: During the certification you will document working with clients either 1:1 or in a group environment. This ensures that you are practising what your are learning.
12 Week Online Training Attendance: As part of the certification there will be 12 weeks of live workshops to help develop your knowledge and understanding further. Don't worry, we have calls for different timezones.
Your questions answered
Because we get it – this is a BIG decision.
Who are the Association for Coaching (AC) and what do they do?
The Association for Coaching is a leading independent, and not-for-profit professional body dedicated to promoting best practice and raising awareness of standards of coaching worldwide. You can find out more about them by clicking here.
How do the AC differ from the International Coaching Federation?
The AC and ICF (International Coaching Federation) schemes are similar, but their approaches differ.
To find out more, you can click here to see a comparison table.
What is NLP and how can I use it in business and in my life?
Neurolinguistic Programming (NLP) involves the use of models, techniques and strategies to help us understand how the language we use influences the way we think and the results we get. By changing the way we look at things, it automatically changes the way we see things. In turn this can change our version of reality. In turn this can change our lives [and the lives of our clients!].
The power of NLP can be used in coaching, training, at work, in business, in teacher training in mentoring, in our personal lives. Basically everywhere!
What do I need to do to pass?
The course will give you everything you need to apply for the relevant memberships previously stated with the AC and ANLP professional bodies. This includes:
In person training
Practice sessions with real case study clients or in your workplace
Group supervision for extra support
Reflective log templates & regular feedback
Guidance on your written assessments
You will be supported to complete the assessment as the course progresses. We are committed to help everyone cross the 'line' and ensure that no one gets left behind. The majority of the assessment is incorporated into the weekly learning activities, and you will be given time to complete this during our training. Where any assessment needs completing outside of the Zoom room, such as the report, drop in sessions will be available to discuss your progress and answer any questions.
So in essence, you will need to complete the following:
Online Training [60 hours]
Self Study including Assessments [40 hours]
Coaching Practice [25 hours]
*Your individual written assessment will comprise a 1,000 word essay or report style summary of your coaching approach and practice. This is subject to change if the membership requirements change. You will be notified accordingly. 
What if I'm already a qualified coach and I want to train in NLP?
The way the course is structured, this is absolutely possible. You are able to join us for the four NLP days, making a total of 20 hours learning – the requirement to gain Associate Membership with the ANLP! 
Which membership level can I get with the AC once I am qualified?
This training will be accredited by the Association for Coaching when it is launched. The training is one step up from Association level, and has been aligned to the individual 'Membership' level with the AC.
After you have finished your training with us, we will take you through the process of how to apply. It will be very straightforward, as we have aligned all the assessment, activities and reflection logs to enable you to use this as evidence for your membership application.
As part of training with us we also gift you a BONUS 12 months membership at Association level, which you can upgrade to Membership upon completion of your course.
If you would like to find out more about the AC membership levels, you can click here.
*Please note, this will be covered fully as part of the training. You will also have plenty of opportunities to ask questions about this in our live training.
Who are the Association for Neurolinguistic Programming (ANLP)?
ANLP international CIC is an umbrella organisation offering impartial and independent advice, whilst supporting the community and being the global flagbearer for professional NLP. They organise the NLP international conference and the annual NLP awards. In addition, they also have a number of publications, support research in NLP, unite the community and support the NLP community. To find out more click here.
Which membership level can I get with the ANLP once I am qualified?
By completing the 20 hours of NLP training included in this course, you will have met the requirements to apply for the Diploma membership as an 'Associate'. Your NLP Diploma certificate gives you the minimum requirement for this. As part of this training, you will be gifted with a BONUS 3 months membership at this level. Once you have completed your NLP Diploma Certificate, you will have an opportunity to upgrade this to NLP Practitioner, NLP Master Practitioner and then NLP Trainer should you wish at a later date. This will be discussed at the end of the training. 
If you would like to learn more about the membership levels, click here. 
What happens when I sign up?
When you sign up using a link on this page, you will secure your place. You will then be contacted by the admin team who will let you know what happens next. This is typically within 72 hours and they will cover the following details:
Your learning agreement,  contract and handbook
Access information to the Kajabi platform [usually 1 week before the live training]
Information for any bonuses you have secured
Details of logistics for the live training and Zoom links
Contact details for the team should you have any questions
During the 12 weeks of your course you can expect:
5 hours per week live training delivered via Zoom [usually a Saturday/Sunday 9-14:00 BST. However, this is flexible dependent on cohort availability]
Full access to supporting materials and resources via Kajabi Platform [app, mobile, desktop friendly]
Assessment support throughout via live lessons, and scheduled group drop-ins
Calendly link to book 121 sessions
Support with registering for your membership with the Association for Coaching and Association for NLP
If you opted for our amazing pay in full bonuses, you will receive access details and booking links via email
I am a Manager: How do I give teams this amazing opportunity?
I run both open and closed (in person and online) cohorts where your leaders, managers and teams can learn and discuss their own business context in their group. The days are flexible for this and week days are available if preferred.